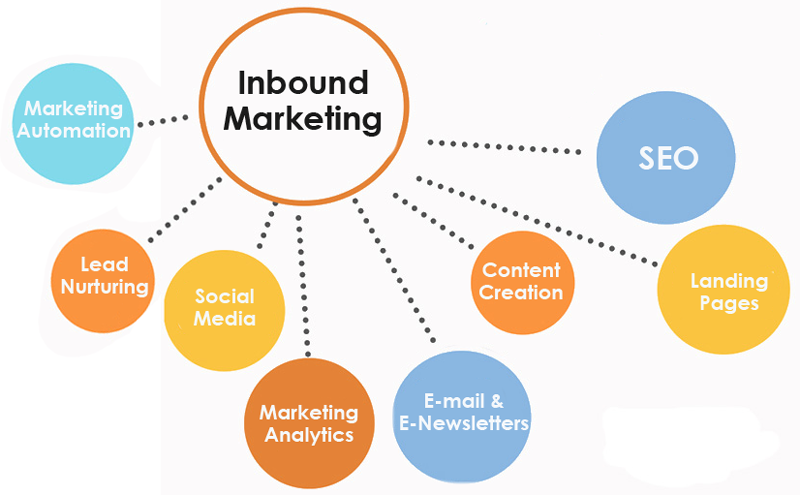 HOW INBOUND MARKETING AFFECTS BUSINESS 2018
Inbound Marketing is a strategy in which a company attracts its leads through blogs, content marketing, SEO and social media. It's a contented and cost-effective way to turn your qualified prospects into the regular customers and promote your business. Inbound marketing adds value at every stage of the customer's buying journey. With the inbound marketing, a customer can explore the product before purchasing. They can access the details about the services through their websites and can compare it with other ones in pricing, specification, and reviews. Thus Inbound marketing strategy expedites the clients to achieve the best product and also build trust between prospect and business.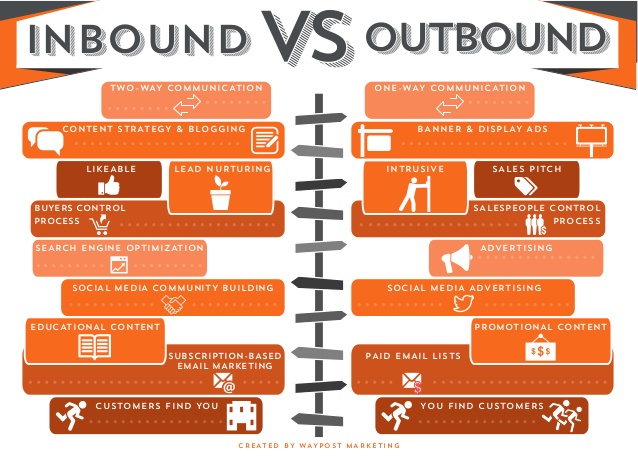 INBOUND vs OUTBOUND MARKETING
When we talk about the outbound marketing, it refers to the traditional means of advertisements as radio, television ads, print media, billboards, cold calling, direct mails, and telemarketing. Such type of marketing demands cost and patience to attract the leads, wait for their response and finally for purchasing. As in the case of inbound marketing, a company can advertise its product or service in less time without utilizing more assets. It enhances the future purchase and also increases the brand awareness among the prospects. On the other hand, a prospect can easily explore the product through live chat and compare it with competitors. Thus, it enhances the chances to get more desirable service. Despite the pros and cons of both marketing strategies, they go hand in hand. A business has to establish both retailing campaigns to thrive than its competitors.
INBOUND MARKETING METHODOLOGY
Behind every successful strategy works a perfect methodology that facilitates a business. Same happens in the case of inbound marketing that comprises four easy steps.
1. ATTRACT
The first phase of inbound marketing targets the strangers to become visitors but only the personas that most likely to become the leads. Such prospects have the chance to grow into customers. You can grab their attention by sending them most suitable content at a right time. Blog, social media and content strategy are the best keys to appeal visitors to your website. Through blogging, you can arrange the informative content about your services and it should be brief enough to give the answers to the questions of the foreigners. Social Media promotes the purchasing process. By sharing your information on it, you can get connected to your visitors on social media, advertise your products and can get callers' reviews too.  
2. CONVERT
Isn't it a pleasant moment when your visitors are turned into qualified leads? That happens at the second step of the methodology when you use messages, forums, calls-to-action, Customer Relationship Management(CRM), and virtual meetings. Through these ways, a company can answer the queries of visitors and share their desirable content with them. As in the case of online marketing, information is shared in the form of infographics, whitepapers, eBook, webinars and tips sheets.
3. CLOSE
In the third phase, you are close enough to disciple a qualified lead into a customer. But this process should be taken in an efficient way. Lead scoring, lead nurturing, pipeline management, emails, lead intelligence and closed-loop reporting all are such strategies that can generate new clients in fastest and easiest way.
4. DELIGHT
The last but not the least is the phase of delight when your customers are now promoters. You still publish and share the content with them for the better use of the products and services and through this, they can also give you suggestions regarding areas of improvements. You can use online conversation, customer hub, and smart content to get in touch with them. Help them realize that you are always there as it will make them happy. In return, they will surely refer your service to their friends and family.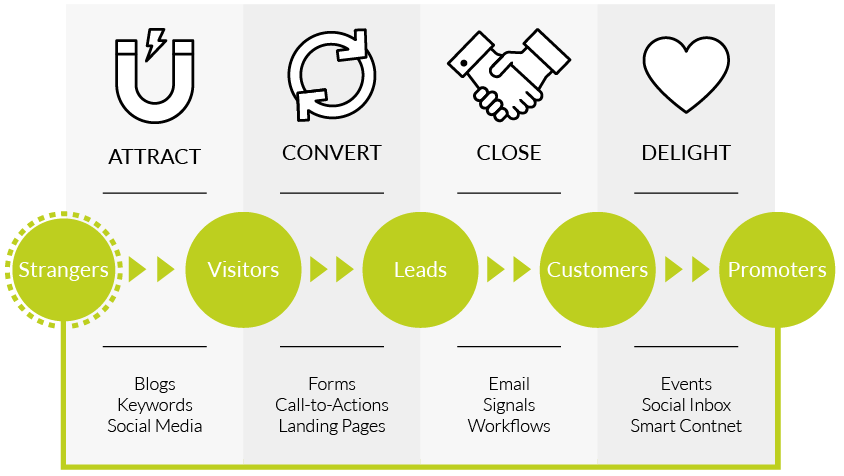 Want new articles before they get published? Subscribe to our Awesome Newsletter.