Definitive Guide to the Evolution of Digital Marketing
Comprehensive guide to Digital Marketing 2018
Having troubles with competition, survival, and business growth? Fear no more! Learn digital marketing techniques to help you get more leads!
Download EBook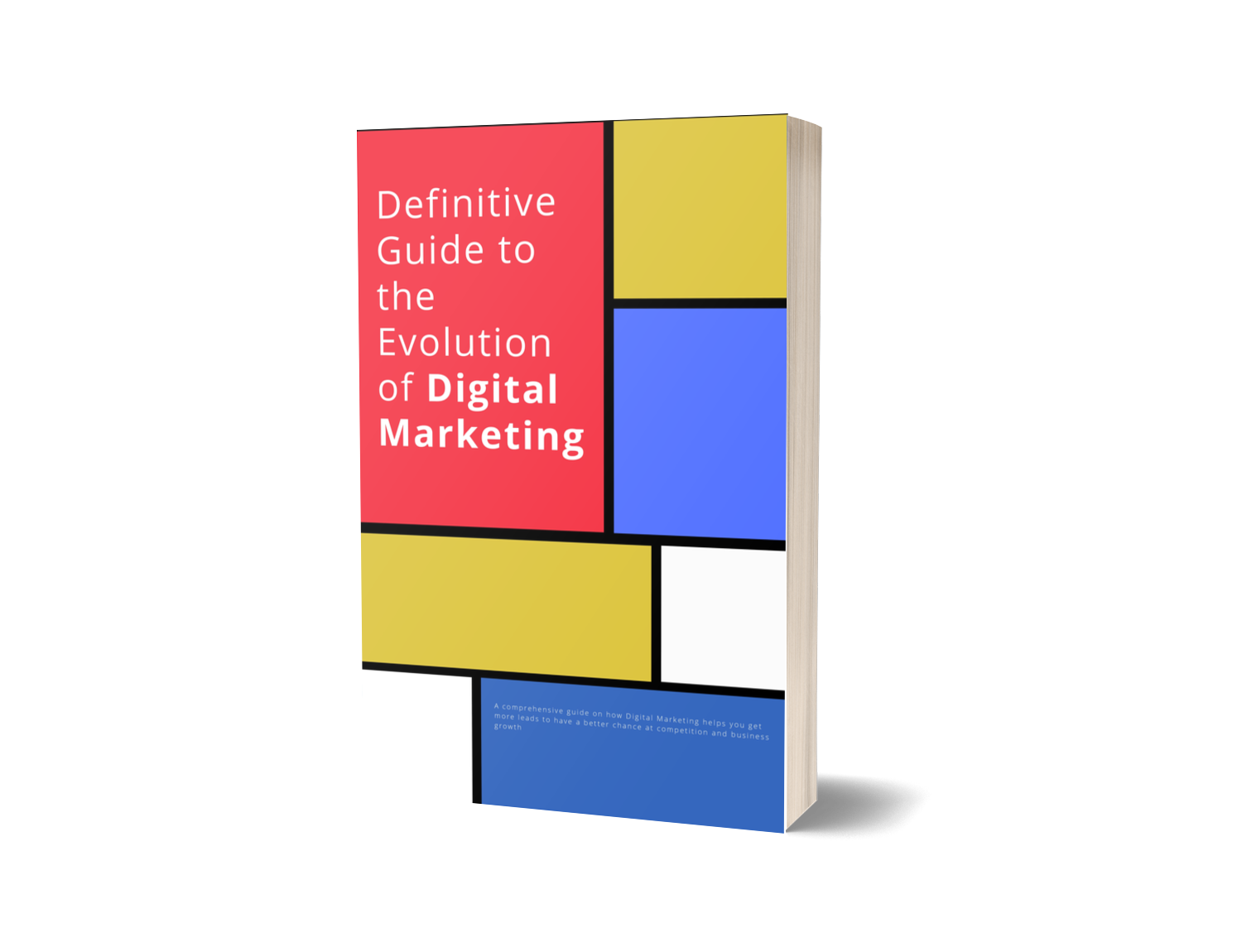 "A comprehensive guide on how Digital Marketing helps you get more leads to have a better chance at competition and business growth."
1. Digital Marketing
Digital marketing comprises all marketing disciplines that use digital channels such as social media, search engine, websites and emails to interact with potential as well as regular consumers.
You can now get more leads at the right time and at the right place with digital marketing techniques. You have the chance for competition, survival and business growth.Digital marketing is becoming a powerful marketing channel for many reasons. Let's have a look on some.
Small organizations even now have the chance to attract the targeted traffic using online channels.

Helps you generate better revenues.

Gives you the opportunity to measure success with the percentage rate of incoming traffic gets converted into leads, subscribers and sales.

Promotes communication with the targeted audience in real times.

Generate better ROI for your marketing investment.

Prepares your business for an interconnected ecosystem by using the concept of the Internet of Things (IoT).

Ensures your brand's survival online.

Supports two-dimensional way communication.

Fast enough to support you to connect with a large audience in a few minutes.

Your audience is consuming digital content. They are moving towards tablets, smartphones and laptops where digital marketers have gained the most ground.
3. Examples and Tactics of Digital Marketing
Digital Marketing presents a way for all organizations to explore and test different strategies to get more conversions. For example, now you can have a content marketing strategy to generate blogs and ebooks to attract visitors. Your email marketing strategy can run email campaign to connect with potential leads that get any subscription or download your newsletter. While social media strategy can help to promote your business through paid and organic posts. Now, digital marketing has two fundamental categories- online marketing and offline marketing. These approaches have introduced new concepts in design, data capture and target marketing to a captive audience.  
Online Marketing
Online marketing is an attempt that you make to spread your brand, product or service awareness to your potential clients with the use of web-based channels. The key benefits of using it in digital marketing is to measure the impact of any course as well as how visitors are captured by the use of landing pages and website experience. You can also determine which channel is most cost-effective in capturing leads and can drive higher lifetime value for consumers.
With the online digital marketing, you can target your audience based on demography. You can easily connect with your audience beyond your geography by utilizing global marketing. Not only this, now you are able to do multi tasks and can handle numerous transactions simultaneously.  
There are numbers of online tools that can be used to build and maintain a robust online digital marketing program.
Search Engine Marketing(SEM)
In digital marketing, SEM is used to enhance the visibility of your site in search engine result pages. In paid SEM, your sponsor ads appear at right or at the top of SEs to gain more attention. For example, when you explore for a specific product or a service online, you use a specific keyword in search engines. As a result, you will come across various ads that will match with your keyword. The paid listing appears on the prominent location and exactly matches your exploration by giving you a chance to click on it.
The primary networks of SEM are Google AdWords and Bing Ads. These are flexible and configurable and you can set up in a few hours. SEM also assist you to track and analyze your campaigns and success.
Content Marketing
Content marketing is the long-term strategy that covers creating and distribution of valuable articles to attract, capture and drive profitable leads or customers' actions. Blog posts, infographics, whitepapers, ebooks and online brochures are some channels that play a key role in content marketing strategy.
In digital marketing, you have to follow a series of steps for content creation;
Analyze the core idea that is needed for your articles that best suits your business goals.

Set up content planning for collaborations and schedule processes.

Automate your marketing plans.

Revise the different channels that need separate content strategies according to their technical aspects, usage and characteristics.

Make sure your target audience and buyer personas are getting your messages.

Create, aggregate, curate and optimize your articles.

Provide your information in various formats each with their specific call-to-action.

Train your teams that are involved in the planning, execution and follow-ups.

Analyze your competitors and market.

Last but not the least, test and optimize your plans regularly.
When strategies are applied in a better way, you can enjoy benefits in digital marketing covering;
Improved SEO efforts.

Influenced conversions with great content.

Convert more website visitors into clients.

Develop more accurate consumer segments.

Create better buyer personas.
Social Media
Social media promotes brand awareness, generate high-quality prospects, drive in-person sales and improve ROI through online channels like Facebook, Twitter, LinkedIn, Pinterest, Snapchat, Google+ and Instagram. Although digital marketing is dominant, social media platforms are becoming noticeable due to built-in data analytics tools. These permit you to track the growth, profit, and commitments of ad campaigns.
Creating a social media plan is a requisite part of your overall customer purchase process. It guides you and informs you whether you're succeeding or losing. Here are some steps through which you can make a winning social media strategy;
Set S.M.A.R.T- Specific, Measurable, Attainable, Relevant, Time-bound goals that align with your business intentions.

Track each metric like posts, replies, likes, reviews and comments.

Create audience personas.

Conduct competitive analysis.

Measure your own progress regularly.

Set up new channels and improve the existing ones.

Inspire your visitors and consumers by sharing success stories and award-winning campaigns.

Create social media content calendar.

Test, judge and refine your approach.  
Email Marketing
Email marketing is one of the basic processes of digital marketing in sending commercial messages to communicate with your clients. Moreover, it is also used to promote content, discounts, events and to direct audience towards your website. You can easily segment groups of your prospects then consumers and send them distinct advertising messages that target their personal demands and concerns. With automated emails, you can develop your one-to-one marketing discussions.
Based upon the purpose, email marketing campaign occurs in many types such as;
Information for new content and product update announcement.

Welcome messages.

Subscription emails for blogs, newsletter and magazines.

Event invitation and promotion notes for loyal clients.

Transactional mail including confirmations, billings and order booking.

Lead nurturing emails.
Offline Marketing
Offline marketing strategies employ offline media courses to create awareness of a company's products and services. It has two basic forms- print media and non-print media.  Offline marketing media includes television, radio, newspapers, pamphlets, posters, brochures, flyers and banners.
Presently, with collaboration, you can choose to offline and online digital marketing. For example, if you offer a sale on your products then limits showcasing this information on your website and don't use other methods to publicize the event, your company can have limited number of potential transactions. You can use newspaper, billboards and magazines having the information about your site to advertise the event. These offline ads can feature tracking URLs, landing pages or QR codes. By using these options, you can analyze where your guests are coming from, who they are and how many have responded to the call to action.
Advertising
Offline advertising means tying traditional television, radio, direct mail, signage and trade to exhibit your website for improved tracking and increased value. Along with digital marketing, publishing an article in a print publication, running print advertisements is another way of getting in front of more potential clients.
On the local level, you can have access to that 8% of people who aren't in the circle of your digital marketing.  It will not only generate quick result but your visitors will also remember you in the long run. You can put the same offline advertising on multiple online platforms and the effectiveness of the entire campaign could be doubled.
Direct Sales
In direct sales, you need direct contact with your buyer. From your clients' perspective, they take benefit from direct selling because of the convenience and service it provides. These services include a personal demonstration and explanation of products, home delivery, and generous satisfaction guarantees. Developing online digital marketing strategies that support your offline transactions makes your sales team more active and more productive.
Public Relations
Traditionally, offline PR consists of one-way communication without much feedback. Though traditional public relations strategies still work well, you can enhance their speed and result with online digital marketing strategies. Offline PR involves interaction with your potential audience with a newspaper journalist, TV reporters, Radio talent, industry publications and magazine editors.
2. Early Ages of Digital Marketing
The story of digital marketing begins when the concept of the internet had arisen and the first web-based ad banner was established in 1993. When HotWired purchased for banner ads for their promotion, it marked the beginning of the digital marketing era. After that, many search engines like Yahoo, HotBot, LookSmart, Google and Alexa were launched. In 1997, the first social media site Sixdegree.com was launched. In 2002, LinkedIn emerged as the first professional social media network. After that, digital marketing has broadened its ways when WordPress and Gmail were launched and Facebook has gone live.
The arrival of Youtube in 2005 gave organizations an opportunity to publish their products and services' demo and advertise in a better way.
Although the series of discoveries continued, small engines were wiped out and Google and Yahoo emerged as the major hit of digital marketing.
Yahoo
At this time, Yahoo offers a web portal emails, news, search engine sites, directory and many other websites and services. It is now one of the most popular destinations on the web. Yahoo allows the marketers to collect more information about their audience than competitors. Another attractive feature of Yahoo is a personalization service that allows the visitors to combine individual favorite data sites, feature sites and RSS feeds to conveniently organize them on one page.
Yahoo also facilitates the digital marketing by developing commercial services and mobile services. If you want to grow your business online, you must appear on Yahoo's platform.
Google
The year 1998 was proved golden time for digital marketing when Google was launched. Google began to expand and introduced products like;
AdWords

that was three-line ads placed on the top or to the right of search engine results.

AdSense

that was cost-per-click advertising scheme.

Google + and Google Panda

that ease you to add curated circles for your specific interests, news, blogs and entertainment.
4. Rise of the Big Data in Digital MArketing
You now have thousands of gadgets in your control like digital television, tablets, smartphones, applications and social networks. Through these mediums, you can produce the rapidly growing type of unique data. This text-based information is known as big data.
You can use big data to improve your digital marketing campaigns. Big data can track patterns and trends of human behaviors enabling you to uncover these results in a better way to spot opportunities, correct courses and engage with customers. You can now gather reports on time and make decisions based upon the real facts rather than guesswork. There are many stages in which you can use big data, understand the information in a speedy manner and can derive actionable insights for digital marketing.
Transaction Tracking
Your company always performs sales using your clients' information. Now you can collect your consumers' data from their transaction details such as insurance claims, purchases, orders, requests, withdrawals, deposits, reservations, bookings and credit card transactions to gain knowledge about activities of your target audiences.
In digital marketing, along with speed and accurate data, you can know the clients' interests. To satisfy their needs, you can produce new products resulting in growth in business.
Personalization
Big data offers you the opportunity for real-time interactions based on the personality of the customers. By using it, you can combine all the data of your consumers and visitors with other data sources like social media, location, and transaction data. You can determine where the true customer insights lie and what should be your next move to get personalization.
In digital marketing, you can follow a series of strategies to ensure personalization using big data.
Learn which information is most valuable.

Align big data with business, sales and marketing goals.

Focus on the patrons' journey rather than single interactions.

Analyze news to better understand the customer experience.

Identify inactive buyers to re-engage them.

Measure acquisition data and monitoring progress.

Leverage all relevant notes to fully understand customers.

Capture, analyze and act on information quickly to create value.

Blend this gathered knowledge with content.

Understand the limitations of big data.
Web Mining & Data Search
You can use big data sources to improve the results of your next digital marketing campaigns. There are two basic sources- web mining and data searching.
Web mining allows you to open and extract information from servers and web documents using automated tools. It also enables you to access both structured and unstructured data from browser activities, server logs, site and link structure, page contents and other sources.
Data search gives you the knowledge of customers' behavior and intent by tracking their browser activity. By using onboarding, you can also match your consumers to their online personae. Hence, you can create a targeted online audience in digital marketing.
5. Today's World of Digital Marketing
Presently, digital marketing is so powerful that you can actually capture the attention of your users looking at your competitors' products and services in real-time.  You are even capable to target an audience made up of highly-qualified and purchase-ready leads and can easily convert them into loyal clients by predicting their demands and hence offering true value.
The desire to get more prospects has enabled the businesses to make more improvement in their employed digital marketing strategies as well as data analytics tools. Moreover, search engines started using advanced ranking algorithms and browsing online became more personal. Now, you are able to target your buyers and develop strategies based on the search patterns, which led to a whole new way of selling and communicating.
Well Developed SEO
SEO is a very feasible marketing tool that provides you with business visibility, branding, web traffic, a high ROI, credibility and insight into customer behavior. The basic purpose of SEO is to collect user traffic on a website. As an important subset of digital marketing, SEO is now well-developed having different methods in its strategy.
Off-page Optimization: It covers link building, social media marketing and social bookmarking. It refers to all of the activities that you do away from your website to boost the ranking of a page with search engines.
On-page Optimization: It applies to the settings you can apply on your website to increase visibility and user traffic. In digital marketing, you can use some techniques to make your website friendly to search engines like;
User-friendly navigation.
Optimized internal links.
Text Formatting.
Optimized images.
Fast loading pages.
Mobile-friendly pages
High-quality fresh contents.
External links.
Smarter Google
In today's world of digital marketing, Google is smart enough that you can use it's numerous business tools in addition to the search engine.
Google Webmaster Tool: It helps you to identify an issue that is preventing your website from getting found in the search results. It also eases you in analyzing your existing search traffic. With this, you can understand how visitors are currently finding you.
AdWord Keyword Planner: It allows you to plan your AdWords campaigns. It can also help you search for new keyword ideas and suggestions for your digital marketing.
Google Suite: It is a collection of Docs, Sheets, Slides, and Forms. You can use it for Word documents, Excel spreadsheets, PowerPoint presentations and for managing simple questionnaires.
Google My Business: With it, your business can get featured in the search results.
Digital Public Relation
In digital marketing, you can find out everything you need to know about your visitors before even making a connection. Using SEO research and trends, your Digital PRs are able to back all of their decisions with data, driving to high-grade targeting and more quantifiable outcomes.
Agile Marketing
Agile marketing is a measure of how skilled you are in achieving your digital marketing goals. It's a potential approach in which you should focus on significant projects first, complete these tasks, analyze and calculate the outcomes, rectifying the mistakes and improving the results in a continuous manner. In digital marketing, it ensures the delivery of transparent communication and successful collaborations.