Best Content Marketing Tools to Skyrocket Your Conversions
Comprehensive guide to Content Marketing Tools
Low conversion rate? These best content marketing tools got your back! Switch and pick then start to skyrocket.
Download EBook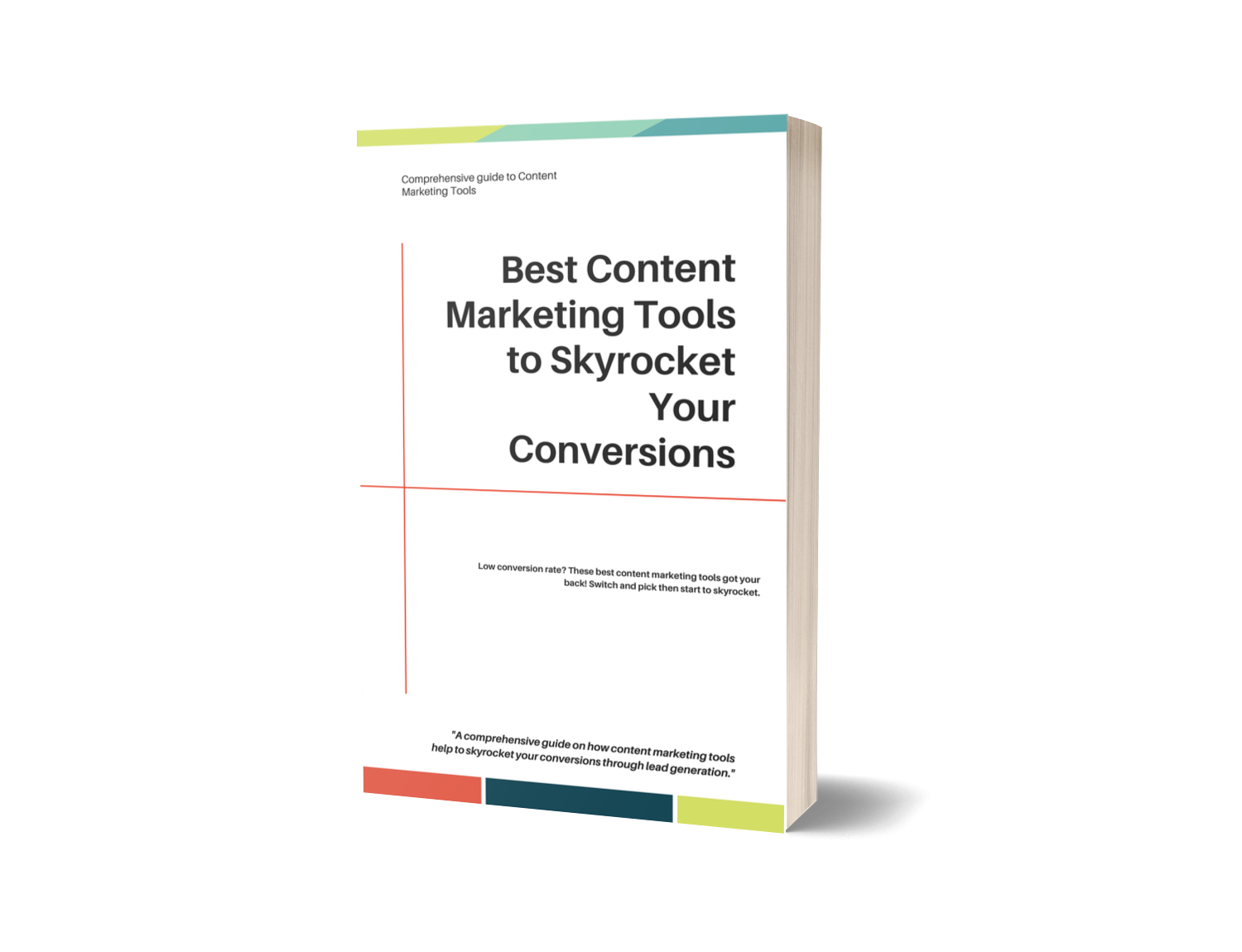 "A comprehensive guide on how content marketing tools help to skyrocket your conversions through lead generation."
1. How Content Marketing Tools Work
According to research, 88% of the brands use content marketing tools as their marketing strategy and experience high-level sales, lead generations, improved engagement and reduced clients' acquisition cost. 
Content marketing tools are helpful to automate and improve your content marketing strategy. Presently, content marketing is becoming a notably competitive arena. Organizations are seeking strategies to develop interesting and eye-catching articles that can influence the sales journey of your clients at different stages.
Awareness:

This is the starting point of your buyer's journey in which you aware your visitors using your contents about your products and services and what you can do to fulfill their needs.

Consideration:

With the use of your content marketing tools, you can track the interests of your visitors and can modify your contents that can make their decisions in your favor.

Decision:

At this stage, buyers are ready to purchase and start comparing the companies. The brand-oriented articles and customers' testimonials can attract them to use your services.
Keeping in mind the demand of impressive articles in buyers' journey, we have easy and best content marketing tools that not only will save your time and energy but also will skyrocket your conversions.
3. Email Marketing Tools
Among all the types of content marketing tools, email marketing give you the best Return On Investment(ROI). Email marketing program is still important because it is one of the cost-effective, valuable and targeted channels to communicate with your audience. Presently, many email marketing tools have emerged that enables you to create highly engaging emails, manage your contacts and track the performance of your mailing campaign. Here are some of these great tools to try.
MailChimp
In the content marketing tools, MailChimp gives you marketing automation platforms for your small businesses. You can share emails and ad campaigns with your clients and other parties. MailChimp is free for 2000 subscribers and 12000 monthly emails. It's main features like segmentation, A/B Testing, automation and triggered emails support you get started with the email marketing.
Constant Contact
When you have a small business, Constant Contact fits best according to your business structure and provides affordable plans. It is among the content marketing tools that give you the multiple features at a single place. You can use templates, edit the images and texts for your own emails and newsletters. It can manage your contact list regularly as well as you can easily host events through its event registration tool. This isn't the end, you can have online training, help for email marketers and an excellent online support.
OptinMonster
OptinMonster is considered the most influential lead generation and conversion optimization software in the world. The main goal of OptinMonster is to convert visitors into subscribers. In the content marketing tools kit, this engine allows you to create all type of marketing campaigns, promote seasonal sales, drive traffic to your highest-converting blog posts and highlight specific benefits to overcome the sales' problems.
5. Headline Creation Tools
Your contents' headline determines whether or not someone reads your article, takes a subscription or purchases your product. For this reason, you have to pay great attention to your titles to make lasting first impression. Content marketing tools have such type of gadgets that not only help you to make headlines but also assist you to identify the areas of improvements. Let's have a look at these headline creation tools.
Emotional Value Headline Analyzer
Emotional Value Headline Analyzer supports you to analyze your headlines. It gives the score to your headline based on the total number of Emotional Marketing Value(EMV) words it has in relation to the total number of words it contains. Furthermore, it has three major emotional states-empathetic, intellectual, spiritual. You can easily judge which of the three major emotions your headlines most impacts. These content marketing tools are very essential to examine the emotional reaction of your language so that you can realize that readers are affected in a right way.
HubSpot's Blog Ideas Generator
Amidst the content marketing tools, HubSpot's blog idea generator will inspire you by giving a variety of headlines for your blogs to fill your editorial calendar. Its usage is also very easy. Just give it three nouns and you will instantly get many ideas. For your yearly headline ideas, you can opt into the HubSpot newsletter.
Sharethrough Headline Analyzer
Sharethrough is an interesting tool that analyzes your headline and gives it an emotional and engagement score. This score is based on the multivariate linguistic algorithm that depicts the strength of your titles. In a  variety of content marketing tools, Sharethrough has made a unique place because it renders more than 300 unique variables that can enhance engagement, capture attention and pass a strong impression on your reader.
7. Content Curation Tools
Content curation tools are helpful when you don't want to create your own articles. It is an economical way to maintain your publishing schedule with quality reports. Though manual searching of relevant content consumes a lot of time, these tools curate automatically. You can get your desired information in just three easy steps- find articles with keywords, update these and share on multiple channels. Due to cost-effective and productive work, these tools are placed in the content marketing tools kit to enhance your conversions.
Scoop.it
Scoop.it is among the content marketing tools that are used by more than 2.5 million marketers. Through this, you can search for content using keywords, make a target page and share it directly to your social media platforms. It also suggests complementary topics and other Scoop.it users to follow. Moreover, it offers accurate Return On Investment(ROI) measuring tool to get more from your curated content.  
Twitter
Twitter lists facilitate you to monitor from websites, influencers and other relevant companies which can be capable of real-time marketing. You can categorize these lists for curated groups so that you can retweet, respond and share the posts separately from the rest of your feeds. In the content marketing tools kit, it is the simplest gizmo through which you can obtain data from different accounts. Like, if you have a pocket account, you can directly access your contents from the Twitter.
Pocket
Pocket is among the profitable content marketing tools that can bookmark your interesting articles, videos and images for later. It is more of a personal content curation tool that can be also used offline. You can build your library online and access it offline. It can work in your browser as well as from apps like Facebook, Twitter, Flipboard, Pulse and Zite.
9. Social Media Tools
Unlike paid advertising campaigns, social media marketing is the cost-effective strategy that not only enhances your online visibility but also spread awareness about your products and services. These tools help you to automate your articles on the online platforms and analyze your performance periodically. Due to these features, social media tools are becoming a major component of the content marketing tools.
BuzzSumo
BuzzSumo is the most widely used gadget in content marketing tools kit. You can easily go through the trending articles over the different time period. It provides the shared contents on different social platforms. You can easily set up keyword alerts to post and update the reports. BuzzSumo is a powerful tool through which you can analyze what your competitors are doing, which work is not valid and which work can assist you to win the market.
HootSuite
HootSuite is the best choice when you want to track and manage your social media channels. You can monitor people's review regarding your products and services as well as you can easily manage your social media customer service. Through it, you can easily view the streams on your multiple platforms like Twitter, Facebook, Pinterest and Google+. According to research, 20% of the companies choose HootSuite amidst the various content marketing tools.
Buffer
The buffer is one of the content marketing tools that is used to check the performance of your articles. It not only helps to maintain all your social accounts but also analyzes the performance. Furthermore, it can facilitate you to create, manage and schedule your contents across the different social media platforms. Through this, you can get a complete overview of your production on social media.
2. Content Tracking Tools
Content marketing tools kit has content tracking tools. These gadgets analyze the performance of your articles, to judge who is visiting your website and what steps should be taken for customer retention. Content tracking tools help to level up your content marketing strategy. Here are a few free tools that you can use easily for high-level achievements.
Google Alerts
Google Alerts is a content notification and change detection service. Basically, it sends the email notifications to the users about new reports, web pages, research that matches the search terms. With such content marketing tools, you can set up alerts based on your brand or any keyword to attain the information about your desired topics. It also helps you to monitor and respond to the topics that are most important to your organization.
Social Mention
Social Mention is one of the powerful content marketing tools that search user-generated videos, comments, blogs, bookmarks, news, events and many more. It allows you to track your articles on different social media platforms. It also tells you the number of mentions and the number of people that are mentioning you. "Tattletale" is it's the most important feature that takes you towards the negative comments by clicking the "negative" word under the sentiment area. This part facilitates you to make improvements and minimize the negative feedback.
MonsterInsights
According to research, over 2 million WordPress sites are using MonsterInsights to make data-driven decisions to grow their business. It is one of the favorite content marketing tools that can keep track of your analytics so that you can identify whether your content marketing strategy is working properly or not. It stores your important metrics at one place like total revenue, top products, conversion rates, order values and more. Connecting it with Google Analytics, you can enjoy its multiple features like:
You can get real-time stats to unlock potential revenue.

Enhance link tracking.

Get analytical reports on your WordPress Dashboard.

Enable Google Optimize on your WordPress for smart tests.

Control performance like website speed etc.
4. Content Promotion Tools
Content creation isn't enough if you want to stand out in a crowd. Constant content promotion is necessary to spread awareness about your brand, to generate more leads and drive more traffic to your site. To win the competition in the market, you should have promotion gadgets in your content marketing tools. Few mentioned tools in this section will be helpful for you to raise your business.
Google AdWords
Google AdWords offers a pay per click(PPC) to advertise your contents. Like other content marketing tools, it also has many benefits like;
Measurable:

You can measure each aspect of your marketing campaign like cost per acquisition(CPA), click through rate(CTR), cost per click(CPC), return on investment(ROI) and many more.

Cost Effective:

With Google AdWords, you can set your budget and pay only when someone clicks on your ads.

Highly Targeted:

It allows you to target specific geographic locations and mobile devices. With more than 40 language options for campaign targeting, you can advertise your services manually or automatically by setting specific hours during the day.
Social Media Ad Platforms
In content marketing tools, Social Media Ad Platforms have become an essential way to reach the targeted audience. Pinterest, Facebook, Instagram, Twitter, LinkedIn and YouTube are used by many customers and they also want to engage with the companies through these platforms. Although factors like the number and type of targeted audience, type of your business and your goals can help you choose which social media platform suits best to your business strategy.
Social Warfare
Social Warfare is among the content marketing tools that allow you to have social sharing buttons on your content. In the social media plugins, it included customized shared contents and images that are highly mobile responsive so that these look great on all devices and screens. This feature allows you to have full control over what is shared and what it looks like. Moreover, with the use of click-to-tweet, you can get more shares.
6. Visual Content Marketing Tools
According to research, 65% of the senior marketing executives believe that visual assets can boost the customer retention as they attain the attention of all age groups. For this reason, you must consider visual marketing tools in the content marketing tools kit. Here are some serviceable gizmos that aid you to create informative and interactive visual contents that keep you engaged with your audience.
Boomerang
Boomerang is a video application from Instagram. In the digital marketing, it's a new way to present your video content. You can record a sequence of images that are repeated backward in a time frame of one second. After that, you can share these videos on Instagram. These content marketing tools can produce highly engaging and popular content format.
Canva
Canva provides you with a variety of templates from email headings to blog graphics. It is among the essential content marketing tools that are used to make graphics. You can easily create and customize images, videos and contents and share these for illustrating blog posts, podcasts and social media sites. Secondly, you can configure your templates, documents and design so that others can easily modify these. Thirdly, it's a user and budget-friendly application that allows you to address the common issues that disturb the content marketing efforts.
Ezgif
With the Ezgif, you can upload a series of images, make the GIFs, adjust the order of uploaded images, change the GIF size and also tweak animation. By using such content marketing tools, you can instantly get your desired GIF.  
8. Content Upgrade Tools
Content upgrading is a technique to boost the conversions. A low-quality article can affect your credibility and relation with the clients and will not be helpful in adding value to the customer experience. For this purpose, many organizations look for the content upgrading mechanisms in the content marketing tools that can skyrocket their conversions.  
An exceptional content upgrade should have the real value, visually appealing and must be close to the core idea of the report. Presently, many online tools have the ability to provide you with an active, suitable and economical content upgrades.
Fiverr
Among the content marketing tools, Fiverr is the vast online freelancing website. It provides you the services of the graphical designer, content writers, website designers, online marketers and many more. On this platform, you can easily hire someone to create your high-quality content upgrade at a low cost.
Google Docs
Google Docs has various features that can upgrade your content in a few minutes. It can work with the list, numbers, tables and various fonts so that you can make your desirable content in a single click. You can export your articles into the PDF format and can save it easily. These multiple features at the same place make the Google Docs most commonly used content marketing tools.
Shutterstock
Shutterstock provides a wide range of high-quality images including icons, illustrations, photographs and clip arts for the high-grade content upgrade.  You can easily search for your desired image by a keyword, category, file type or color. Shutterstock is one of the content marketing tools that provide the free and eye-catching images to get the reader's attention.
Facebook Page Insight
Facebook Page Insight is the analytical tool that can gather and measure different types of data from your Facebook Page like recent seen, likes, reviews, engagements. Such information gives you the insight about your page growth and performance of the Facebook strategy. It is one of the content marketing tools that has improved structure to help you analyze each part of information briefly.
Reach: It gives you the knowledge about how much reach your pages have received through organic and paid sources.
Visits: Visits section gives you the information about your most visited Facebook pages like photos, timelines etc.
Overview: This section gives you the overview of your basic data like post reach, clicks, engagements, likes.
Likes: Likes tab shows you the liked pages graphically. You can also review your likes on the monthly, weekly or daily basis.